Wagyu Burgers & Sliders
Porter & York's Wagyu Burgers & Sliders will take your burgers to the highest level. The perfect combination of ground meat and blended fat makes these burgers explode with flavor in every bite. Wagyu beef is among the highest quality available.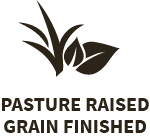 Kobe cattle come from Japan and produce amazingly tender, marbled, and delicious cuts of meat. When this bloodline is mixed with American Angus, the result is Wagyu beef, an American Kobe brand of meat that is known for it's amazing flavor. Our Wagyu patties are produced from solid muscle chuck section cuts only. Unlike typical grocery store ground beef, we do not co-mingle trim into our ground beef products. This method allows us to guarantee the quality and integrity of our product, as we are able to trace back the source of the beef in every bite. All of our patties are gluten and dairy free. Four 1/2 lb patties per package or 12 two-ounce sliders.