New York Steak
Never frozen, good in the fridge for 8-9 days after delivery.
Choose your delivery date at checkout. We cut-to-order the day it ships.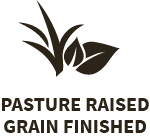 The strip loin comes from the loin primal in the animal. It is the long narrow piece on a t-bone or porterhouse steak. This cut has many aliases, New York steak, Kansas City steak, boneless Club steak or Ambassador steak to name a few. This steak generally has a fair amount of marbling (tiny flecks of fat interlaced in the muscle) which gives the cut a good flavor profile and tenderness. The strip loin can come in a bone in version that is known as a shell steak or club steak.  Ours is boneless and aged to achieve perfect flavor and tenderness.
In the 1800's the famed Delmonico's Restaurant in New York City featured a steak that is thought to be the precursor to the boneless strip loin steak and it picked up the name of Delmonico. This cut has also been linked to a boneless ribeye steak so it is believed that the original Delmonico was cut from the portion of the strip loin closest to the rib. Because the restaurant was located in New York City it is thought that this is how the cut picked up the name of New York steak.
Our Signature Recipe
Pan-Roasted New York Striploin
It just so happens we have a custom recipe for this cut. Please feel free to use it and take all the credit!