Corned Beef Brisket
Porter and York's spectacular corned beef brisket Flat is approximately 3 lbs and features our own special recipe! To make these we remove the brisket point and then we inject the brine into the brisket, add pickling spices, then vacuum pack for a moist, consistent cut.
Porter and York's Corned Beef Brisket is a full trimmed beef brisket approximately 15 lbs prepared the same way as our Brisket Flats.
Never frozen, good in the fridge for 8-9 days after delivery.
Choose your delivery date at checkout. We cut-to-order the day it ships.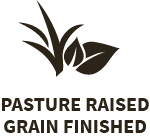 Corned beef brisket is a salt-cured beef product. The term comes from the treatment of the meat with "corns" of salt. It features as an ingredient in many cuisines, including Irish-American, Jewish, Caribbean, Philippine cuisine and Chamorro cuisine (the Mariana Islands such as Saipan and Guam).
Ours is a brisket flat brined in our signature family recipe, vacuum sealed and delivered fresh – never frozen.  The "corning" process is the brining of the beef with added pickling spices; black peppercorns, mustard and coriander seed, red pepper flakes, allspice berries, ground mace, cinnamon, bay leaf, cloves, ground ginger and pink salt are all added to the brine.  The brine accounts for about 12% of the total weight of the product.
Corned beef became popular during World War II when fresh meat was rationed. Corned beef remains popular to this day and is most commonly used in sandwiches and corned beef hash.
Corned beef dishes are associated with traditional Irish cuisine. However, there is considerable debate about the association of corned beef with Ireland. Mark Kurlansky, in his book Salt, states that the Irish produced a salted beef around the Middle Ages that was the "forerunner of what today is known as Irish corned beef" and in the 17th century the English named the Irish salted beef, corned beef. Some say it was not until the wave of 18th century Irish immigration to the United States that much of the ethnic Irish first began to consume corned beef dishes as seen today. The popularity of corned beef compared to bacon among the immigrant Irish may have been due to corned beef being considered a luxury product in their native land, while it was cheaply and readily available in America.