Veal Osso Bucco (2pk)
Veal Osso Bucco is a spectacular cut of beef with tremendous flavor. This 2″ cut is tender and takes on any added seasoning with class while maintaining its comforting texture. An in-house favorite!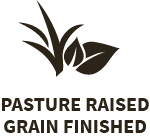 Veal osso bucco from Porter & York is natural angus beef that is rich and will melt in your mouth. Our veal is fed a special diet developed for their health and well being. The meat color is a creamy pink with a creamy, velvety texture. The veal calf is harvested at 18-20 weeks, 400-500 lbs. Our veal Osso Bucco is a 2" thick cut of veal fore shank.
Osso Bucco is Italian for "bone with a hole" (Osso –bone, Bucco-hole). It can be prepared in many different ways from braising in a tomato based sauce or Osso Bucco in Bianco which is flavored with cinnamon, bay leaf and gremolata.