Whole Brisket
Never frozen, good in the fridge for 6-7 days after delivery.
Choose your delivery date at checkout. We cut-to-order the day it ships.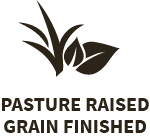 A Brisket might take all day to cook but its worth the time when its ready to eat. Aged for 28 days, this cut of beef will deliver you and all of your guests (you might need a few) an experience in your mouth that you will not forget. Porter and York's Whole Brisket weighs approximately 15 lbs. This Brisket is of the USDA Choice grade.