Baseball Cut Top Sirloin Steak
Never frozen, good in the fridge for 8-9 days after delivery.
Choose your delivery date at checkout. We cut-to-order the day it ships.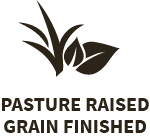 Top Sirloin comes from the primal cut loin, sub-primal sirloin on the beef animal. The top sirloin is a boneless muscle that is located between the short loin and round sections, towards the rear of the animal. Top sirloin is known for having a strong beef flavor. The top sirloin is comprised of two muscles, with the triangle shape muscle commonly called a culotte.  We separate the muscles and send out a true center cut steak.
The term sirloin is derived from the Old French term surlonge, meaning above the loin. Other terms that are used for top sirloin are baseball steak, top butt steak or center cut sirloin. Top sirloin is a very versatile cut that can be grilled, broiled, pan-fried or cut into small strips and sautéed. The top sirloin is a lean cut, with little marbling that should be prepared to medium, or medium rare.   This cut takes rubs and marinades well, which will improve the eating experience if extended cooking is desired.