Bone-in Ribeye Steak
Never frozen, good in the fridge for 7-8 days after delivery.
Choose your delivery date at checkout. We cut-to-order the day it ships.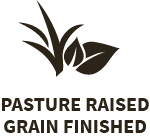 This 20 oz. Bone-In Ribeye steak is found in the primal section known as the rib. The rib primal is located from rib six through twelve right behind the chuck section. Frenching is a technique where the butcher trims the meat to expose the rib bone, showing off its unique cut. This cut is one of the most well known cuts, primarily from the popularity of the bone-in rib roast, also known as prime rib. This section of the animal is known for its marbling, flavor and tenderness.  This primal section has an abundance of all three of these characteristics.
The Bone-In Ribeye steak is also referred to as, Ribeye steak, Cowboy steak, Spencer steak, Prime Rib steak or Saratoga Steak. The Cowboy steak is generally used to describe the Bone-in Rib Steak where the rib bone has been frenched down to the eye of the steak. At least once in your life you should have a bone-in rib steak grilled to medium-rare, lightly seasoned and savor the juicy, melt-in-your mouth, true beef flavor of this gorgeous steak imparts.